Ride for Sofia
Charity – Evelina/St Thomas' NICU
On 4th September, local resident, and Met Police Officer for almost 19 years, Mark, is taking on a mammoth challenge of cycling 1000km from Loch Ness to London to raise awareness and support for the Evelina Children's Charity.
Mark's beautiful daughter Sofia was born in May 2022, sadly in traumatic circumstances and had to be resuscitated at birth. Due to a period without oxygen Sofia went through a cooling process for 72hrs to minimise any damage that may have been caused.
A specialist team was dispatched from St Thomas' Hospital and later the same evening Sofia was blue lighted to the NICU at St Thomas' where she would spend just under a month in the amazing care of everyone on the ward.
Sofia is a beautiful little girl and without St Thomas' she may not be here today and the same could be said for so many babies. As Sofia's dad Mark was truly amazed by the work the NICU do for so many families with so much love and dedication. Being in that unfortunate position really did raise awareness for Mark and his family of the level of dedication of the team of doctors and nurses at St Thomas'.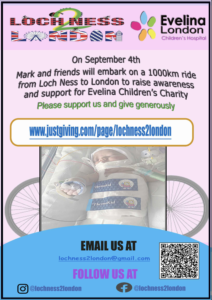 After seeing the dedication and hard work of staff under challenging circumstances, Mark decided to raise some much needed funds for the unit and now it's time to make that happen. With his amazing friends and hopefully some of the doctors and nurses from St Thomas's he will be riding from Loch Ness to London over 7 days from the 4th September 2023 covering over 100 miles per day.
Their epic journey will start from the infamous Loch ness, cycling through Scotland and down the spine of England to our final stop – fittingly St Thomas' hospital. The biggest challenge will be the cumulative elevation of just under 6 miles of going up and down Ben Nevis Six times on a bike in as many days – quite a challenge as they are all over 50!
The sponsorship will be raised through the Just giving page below and the journey will be covered on social media platforms Facebook and Instagram.
Mark is kindly requesting donations to Just giving no matter how small and items that we could auction/raffle and any help to promote their fundraising.