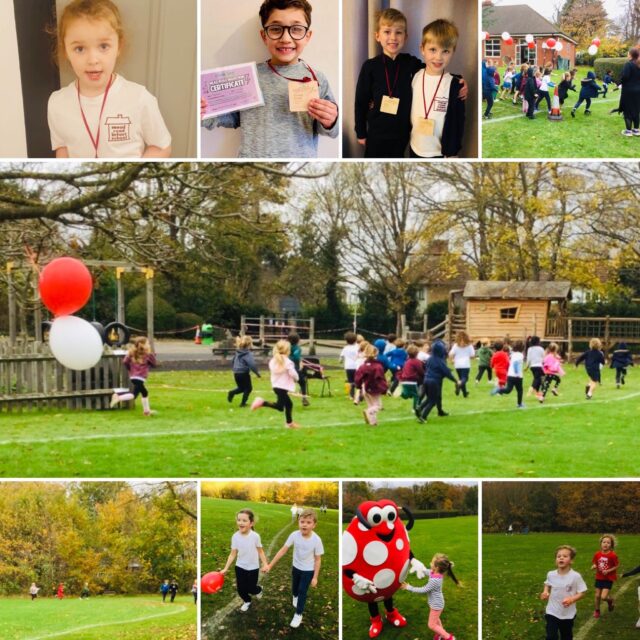 Mead Road Infant School smashes target set to help raise money for the school and Demelza Hospice Care for Children in second year running.
As part of Mead Road infants school initiative to facilitate additional daily exercise for children during the school day, the school is introducing a Daily Mile initiative to benefit of the children's general health and fitness, their emotional wellbeing and improved concentration in class. To launch this the school wanted to bring back the Mead Road Marathon for a second year.
On Thursday 19th November, the children braved the weather, to run as many laps of the school field as their little legs could carry them (before the heavens opened) to raise vital funds for both the school's PTA and Demelza Hospice Care for Children and they triumphed!
They ran collectively a total of 6.2 marathons, a grand total of 164.55 miles – (Lille is 165 miles away and Gloucester is 164 miles!) But even more impressively they smashed their fundraising target by nearly £1,800 and to date so far have raised £4,794. At a time when the charity world is facing a lot of uncertainty this fundraiser was a great way to get children out exercising, support local businesses and to also raise vital funds.
Each child was awarded a medal and certificate for their great effort and achievement and prizes for those who ran the most laps were given to those from each class – huge congratulations to:
Robins: Reuben
Owls: Zachary
Toucans: Jacob
And the prize for who #fundraisedthemost went to Lenni in Robins who raised an amazing £325.
This amazing feat by the Mead Road Children could not have been possible without the fantastic local support of our community. First and foremost – Thank you to Chislehurst Fitness, who sponsored the event and made this event possible for the children.
Thank you also to Munchkin Sports, Chislehurst Lawn Tennis Club, JP6 Football Academy, Deva Yoga and The Studio Chislehurst for donating their amazing prizes. If you wish to support someone at the school or donate to the cause you can find the Just Giving link here: https://www.justgiving.com/campaign/meadroadmarathon
All the money raised is to be split between Friends of Mead Road School, to provide extracurricular activities and Demelza Hospice Care for Children to support children living with serious and terminal conditions.
Sarah Stewart, Head Teacher at Mead Road Infant school said: "We were delighted to be able to bring back the Mead Road Marathon after a very strange year for the children and were pleased to be able to support both the FMRS and Demelza. We were blown away with how resilient and determined the children were whilst running but also the support and comradery they showed each other was heart-warming ."
Amy Thomas, Community Fundraiser at Demelza, said: A huge thank you to Mead Road Infant school and their parents for supporting Demelza with this fundraiser and setting up their fundraising pages. COVID-19 rules and regulations prevented us being there on the day to cheer the children on but huge thanks to the school staff for stepping in to help. This is such a lovely event to be part of and to watch the children cheering each other on, so we were sad not to be able to attend. As a charity, we're almost entirely dependent on the generosity of our supporters to provide the funds that keep our services going and the donation from this fundraiser will allow Demelza to deliver the #BestPossibleChristmas for Children with serious and terminal conditions, thank you.
Find out more about Demelza's Christmas appeal here at www.demelza.org.uk