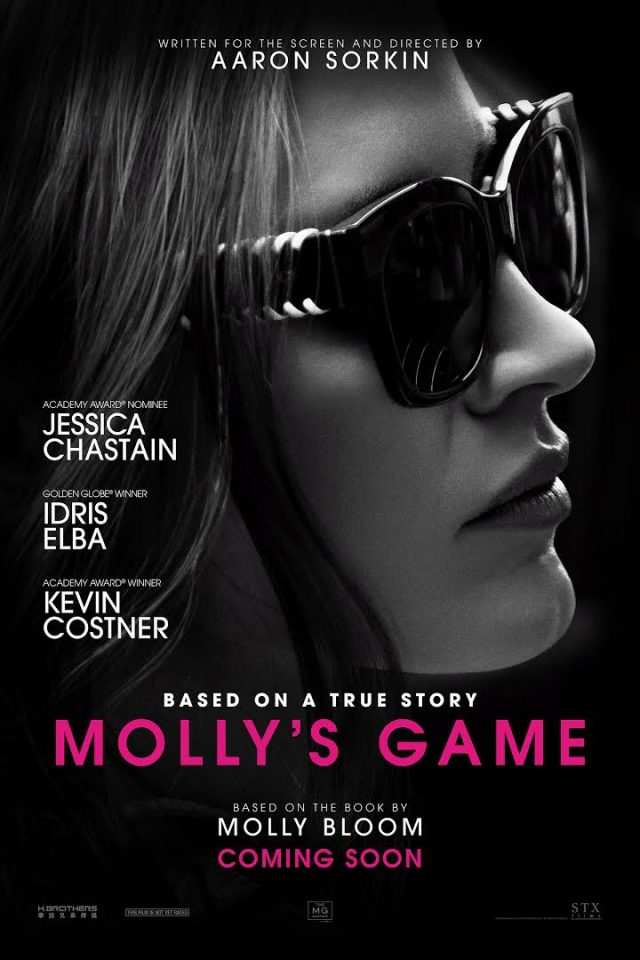 So, what exactly is MOLLY'S GAME?
Well, let's just say the truth is often far more extraordinary, compelling and explosive than fiction. From the outset of Molly Bloom's story, a former high achieving Olympian Skier turned hugely successful High Stakes Poker Game organiser, the viewer is drawn to her strength of character, drive and intelligence. As a female lead Molly, played by the talented Jessica Chastain, oozes sex appeal that although undeniable is outranked by her conviction and integrity. Molly's Game is a fun movie to watch, but it's also a story with a lot of depth. It's a story of ambition, family, loss, hope, chance and skill. The struggles and triumphs that all make part of the human experience. The film will no doubt entertain you, it's a great and true story, portrayed by a star cast including Idris Elba and Kevin Costner, more than that, it will move you in ways you probably won't be expecting. Definitely worth a trip to the cinema to see.
***** (Five Stars)
Director: Aaron Sorkin
Stars: Jessica Chastain, Idris Elba and Kevin Costner
Run Time: 140min
Reviewed by: Fiona Watt
Find Fiona's fabulous blog The Daily Style Edit here.
And her Facebook page here.
Molly's Game is currently showing at The Greenwich Picturehouse, Odeon Greenwich, Odeon Beckenham and the Odeon Orpington.