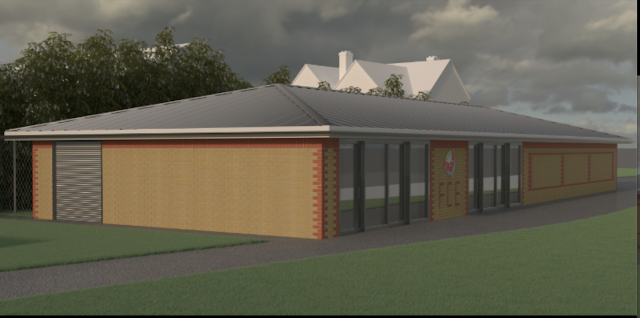 For those of you who are regular walkers, runners, mums with buggies or passers by, you will have noticed over the years that the Pavilion at Chislehurst Rec has slowly been deteriorating. The recreation ground is a fantastic location for families and local residents, with an amazing children's park, woodland, football pitch and tennis courts, but the one thing that really has been missing is a fantastic pavilion that can serve everyone who visits.
Visit Chislehurst has recently met up with Fabio Rossi, who is the Chairman of FC Elmstead, and he is responsible for this great addition to the rec. Here is what he had to say…..
The rebuilding of the clubhouse started many years ago now. In the late 90s we had so many teams and they could not all play at Chislehurst Recreation ground so we started looking for alternative bigger sites. After many years of searching we decided to see if we could possibly rebuild our pavilion at Chislehurst Rec. We approached the football Foundation some 8 years ago and they gave us a very positive response and said they would back us with funding providing we also got other private funders onboard. And then, by the early 2010 period, the old pavilion had become pretty run down and unfit for purpose.
Bromley Council backed our planning application and then we set about raising 100k to add to a football Foundation grant of 263k and finally completed all the funding and paper work required. Which brings us to where we are today.
The football club will benefit from the new clubhouse and changing facilities, but also the local community. It will have a coffee shop, open daily, with toilets to serve the public. Local residents will able to use the hall when required for various activities. The Bootcamp UK classes will have somewhere to change daily and hopefully may pop in for a coffee after their morning fitness sessions.
We have been approached by a Pilates class and they may possibly run out of the club room. We really are open to anyone that wants to use the great new facilities.
The teams that use it will mainly be our under 7s to under 14s. There will be two adults teams using it on a Saturday. One being the local church team of Christchurch Chislehurst and FC Elmstead on alternative Saturday's.
We hope to open the new Pavilion in late summer. Our builder, Fennel and King, is working towards the end of July. Our plan is for a grand opening in September (watch this space!). The Pavilion should be open during the daylight hours.
The football club will run and manage it daily. Our planning consent from Bromley Council forbids us from sub letting.
Details of the build :
The building consists of the following. In the south end it will be a clubhouse room (approx. 30dt by 20f). This is for club members to use when games are being played. In the middle there is a cafe (20ft by 17ft) – this will have public and disabled toilets. It will also have folding doors so when required they can be opened between the clubhouse room and cafe. At the north end will be two changing rooms and a referees room. Outside we have a fountain for dog walkers. A robust click on the pavilion roof..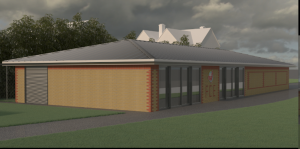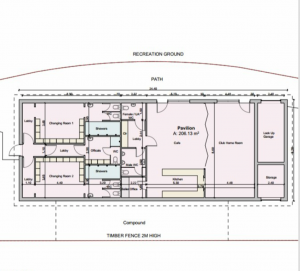 The vision is for it to be a new venue for the community, football and recreational. An artist impression of the finish except bricks will be in red.