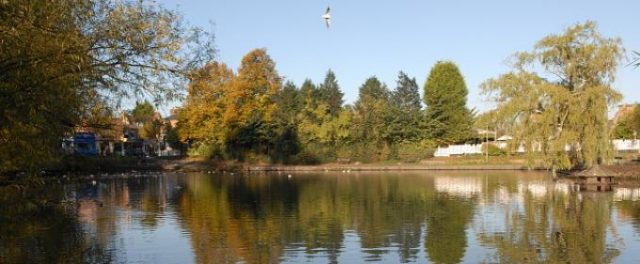 Prickend Pond gives visitors to the high street a chance to see the ducks and geese.
Rush Pond is a manmade pond that dates back to the 19th century but unfortunately often dries up in the summer months. It is still a lovely spot to sit down and take in the views of the common.
Chislehurst used to also be home to two other ponds, Webster's Pond and the Overflow Pond.
Read latest news story written by Vice Chairman Colin Yardley about why 'Rush pond turns green' below:
Rush pond sits on the junction of Heathfield and Ashfield Lane; Colin Yardley, Vice Chairman for the Tustees of the Commons, tells us why it appears so green and what is being done to improve this pond.
It is certainly not lacking water. The borehole pump is switched off at present because recent rainfall has been so plentiful.
Pity it is looking like thick Lincoln pea soup.  This is due to the Crassula  (a prolific non-native species) which some local unthinking soul dumped there some years ago, along with their damned terrapins.
Over the years we have tried various means of killing the stuff, including various chemical sprays.  All to no avail.
So we called in the Wildfowl and Wetlands Trust for an opinion.  Their opinions come at a high price, but at least we can say we have been to the best available authority.
Their only feasible suggested  measure is manual removal, which we tried a couple of years ago, but the stuff grows like tryfids.  They also suggested draining the pond and spraying the weed as it dries.  Not only would this be difficult to do, but local people would not like the look of such a sea of drying mud. Furthermore, we tried this eradication method a few years ago, without success, when the pond last dried up for lack of rainfall.
Therefore, for the next few weeks, each Wednesday, you will see our valiant volunteers hauling the weed out on to the bank, letting it drain and then carting it away to our compost heaps on St Paul's Cray Common.  When we have cleared a fairly large area we plan to move the large carp from Prickend pond to Rush Pond, where they will feed on the weed perhaps to a sufficient extent to keep it under a degree of control.
We recently commissioned a CCTV inspection of the underground drain through which Rush Pond overflows into Prickend Pond.  Our suspicion was confirmed that there is a blockage in the pipe, cause unknown.  It will cost us more money to have the pipe cleared.  It is important to do this,  because in a prolonged dry spell we need the Rush Pond borehole to top-up Prickend Pond as well as Rush pond.
For more information, please visit the Chislehurst Commons website or take a look at our Ponds and Green Spaces pages.