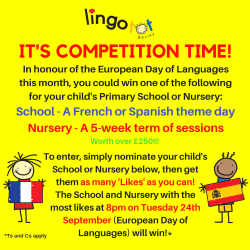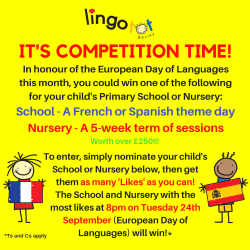 Terms and Conditions:
Please include the name of the School or Nursery and Postcode. Nursery refers to Nursery or Preschool
For a chance to win one of the prizes, nominate a School or Nursery – the School or Nursery with the most 'likes' will win.
Schools must be Primary age
Only settings in or around Chislehurst, in an area operated by Lingotot Bexley, will be eligible.
Entries close at 8pm on 24th September, entrants after this time will not be counted. Winners will be announced at 9.30pm on 24th September.
If Schools and Nurseries have more than one entry the combined number of likes will be considered as total figure.
One like per person per setting will be counted.
There is only one prize for the school and one prize for the nursery- A French or Spanish theme day for a school or A 5 week term of sessions for a Nursery.
The prize is supplied by Lingotot.
There is no entrance fee.
The prize is for a School or Nursery and not an individual.