It has been four years since *Sister Josephine moved to Chislehurst from Croydon; she has certainly become a familiar face around town. (Mainly in Sainsbury's buying cream cakes for her visitors!)
Recently, Sister organised an exhibition of photos, taken by 16 year old Emily, at the Clocktower Café Croydon, and showcased her work to the Leader of Croydon Council, Tony Newman, Deputy Leader Cllr Alison Butler and Cabinet Member for Children, Young People and Learning, Cllr Alisa Flemming.
Emily had been excluded from school and had received coaching sessions with Sister Josephine Udie from SteerRight, funded by Croydon Council. Their work together inspired Emily to take the photos and put on this exhibition.
The photos speak of a young person's growth; with support and mutual trust, Emily has become more confident and able to tackle the difficulties in life.
Emily put her trust in Sister, and we can celebrate her success.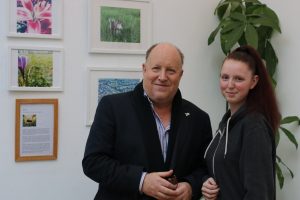 Cllr Tony Newman, Leader of Croydon Council and Emily
Cllr Tony Newman, Leader of Croydon Council said:
"It was an inspiration to meet Emily and to see her amazing pictures, as well as hear about the progress she is making, I am proud that the Council has been able to work with SteerRight and the team to support young people like Emily to transform their lives for the better."
Sister Josephine has been working with Emily for about a year and was encouraged by the way Emily had made remarkable progress during that time.
Together Emily and Sister decided Emily should take some photos and enter a competition. Sister then spotted a lovely exhibition space in the Clocktower Café in Croydon, and approached their Curator, John Reeve.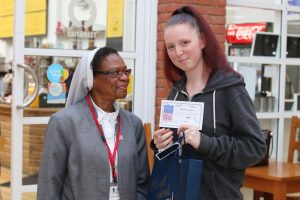 Sister Josephine Udie and Emily
Sister told us: "I wanted to celebrate Emily and her achievement. She had come from a difficult place and was now a young lady who had more self-confidence and self-worth."
"Exhibiting Emily's work meant celebrating more than just the photos on the wall, I wanted a larger audience to come and see her work."
"This was also a way to demonstrate that if you are given the right support, you can go far. I was so pleased the Leader of the Council, Tony Newman, was able to give us his time."
"At SteerRight we value the uniqueness of each young person, believing that each one is capable of developing as a fully functional and contributing person. Our support gently steers and encourages the individual, in this case Emily, to own and be instrumental in her own process of change, we are all very proud of her."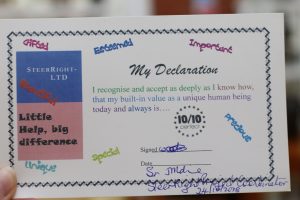 Emily said she has really enjoyed her coaching sessions with Sister Josephine. "Sister is so nice, she has helped me stop self-harming and encouraged me not to give up. Sister is such an amazing person."
This is a good news story about a young person from Croydon and a Nun from Chislehurst.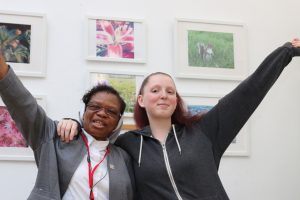 A few years ago, Sister's charity was awarded a grant by the Churches Together shop, to offer self-esteem group workshops to the primary schools in Chislehurst. Having written to all the schools, sadly none of them accepted the complementary workshops, so instead, the money was used to put on two life saving first aid courses for Chislehurst young people.
If you have a good news story about a local resident, do get in touch, pease email sue@visitchislehurst.org.uk.
Written by Clare Herriot
* Sister Josephine has been a nun for over 40 years. She is a qualified health and behavioural change professional, Lifestyle Coach expert, and Project Coordinator for a youth charity called * SteerRight.