The sunny season may well be in full swing, but if your garden is currently somewhat underwhelming, don't despair. There's still time to incorporate some of the latest summer trends into your outside space, so that you're all set for a little late summer outdoor luxury. We spoke to Garden Aspect, Chislehurst's leading garden design and landscaping experts, to let us in on the latest garden trends right now. If you're quick, you can still enjoy them while the sun's shining (and September's always beautiful, right?!)…
Go bold with black
When it comes to painting garden fences and feature walls, pretty pastels have been the choice du jour for a long while. But if you're looking to add a splash of colour to your own garden right now, you might want to consider going darker. Much darker. This summer, black is where it's at, as demonstrated at this year's Chelsea Flower Show, where many designers used bold black as a backdrop to their gardens. And you can see why: black really makes flowers and foliage pop, and also sets off lighter, brighter garden furniture beautifully. If you don't want to commit to such a statement, but still fancy incorporating some of this bold trend into your own garden, think about adding a few jet black pots or containers, or even some eye-catching black screens. Speaking of which…
Add decorative screens
Another hot trend this year has been the addition of decorative screens and panels. As well as using them to enhance otherwise plain walls, fencing, sheds and summer houses, they can also be used to create outdoor 'rooms' if placed strategically. This clever compartmentalising strategy can add a cosy feel to larger gardens, and adds interest if your outside space is simply square or rectangular. Metal, laser-cut screens offer the ultimate modern vibe: use them to section off dining or seating areas.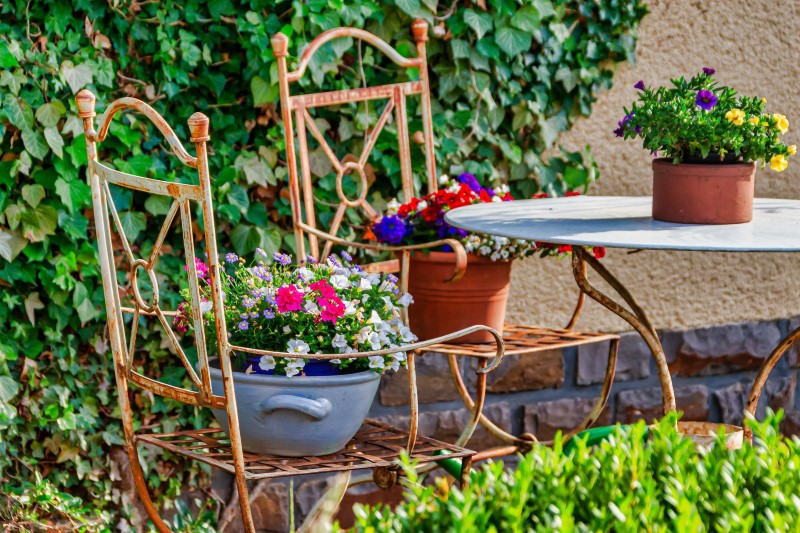 Eco-friendly spaces
As well as being brilliant for wildlife (including those all-important pollinators), creating a 'wild zone' in your garden is super on-trend at the moment – and it couldn't be easier. Simply leave a patch of lawn to grow wild and see what springs up: common beauties include clover and oxeye daisies. Or choose a border or bed in which to scatter wildflower seeds, for a colourful burst the bees will love.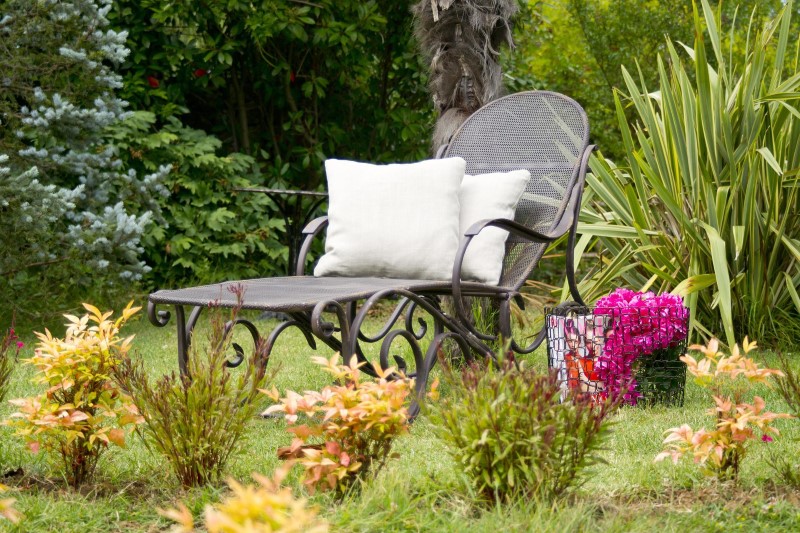 Install a moving water feature
OK, this one isn't quite as simple as adding a lick of paint to an existing wall, but if you want to add a sense of peace and tranquility, water is the way to go. While any water feature, such as a pond, will offer a calming vibe, moving water features, such as waterfall effects, fountains and flowing 'rivers', are where it's at right now. It's the sound of gently running water that's so appealing: get expert advice from Garden Aspect about installing a running water feature or pick up simple, solar-powered fountains relatively cheaply online for a quick fix.
Reuse and upcycle
Sustainability should be more than just a buzzword these days: it needs to become a way of life for us all. That's why reusing and upcycling is a trend that's here to stay. Upcycled items feature heavily in this year's hottest garden trends, so it's time to jump on board: use what you already have to create features and planters that are original, unique and beautiful. Everything from old bricks and wood pallets, to salvaged doors and scaffolding can be used to create planting spaces. Or if you want something smaller scale, old kitchen items, such as jugs, pans and colanders, can be used as quirky, eye-catching containers.
Invest in sculpture
If your vision of garden sculpture extends only as far as the odd gnome dotted around, think again! Sculpture can be cool, classy and contemporary, and can make a gorgeous focal point in any garden. Abstract sculpture can be particularly eye-catching: driftwood pieces can look stunning, or opt for metal pieces, which oxidise naturally when exposed to the elements, resulting in unique hues and patterns.
Incorporate wellness
Many of us enjoy spending time in our gardens purely for the grounding and calming effect it has on our wellbeing, so take this a step further by making mindfulness and wellbeing a key element of your outdoor space. Why not consider a garden room where you can retreat for a little headspace? Or for a more budget-friendly option, simply transforming a small section of garden into your own personal meditation or yoga zone will have you feeling zen in no time. Section off with planters, containers, decorative screens or trellising, and indulge in a little you-time.
Book a consultation
For further inspiration on how to make the most of the latest trends this summer, why not drop in for a chat with the friendly and experienced team at Garden Aspect? Their experts will be happy to help!
To chat to one of our team members, call Garden Aspect on 020 4537 3083, email hello@gardenaspect.co.uk, or pop into the high street showroom (57 Chislehurst High Street, Chislehurst, BR7 5AF). Garden Aspect also has a showroom in Belsize Park.