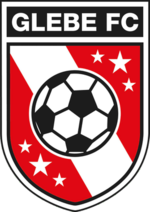 Glebe FC recently arranged for an online presentation to help young people understand the current pandemic and lockdown, providing parents and carers with the tools to help them cope.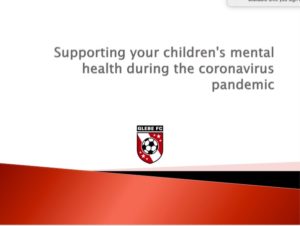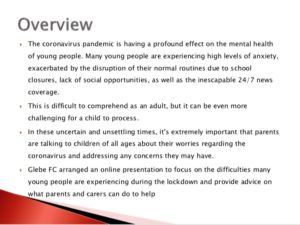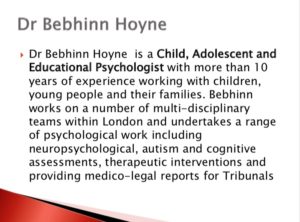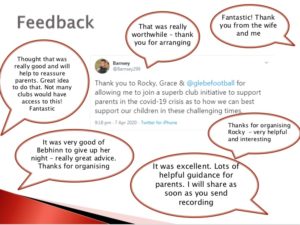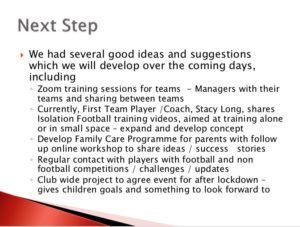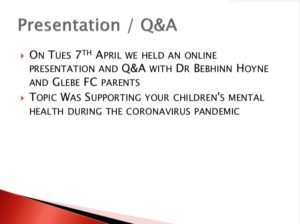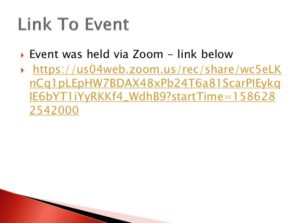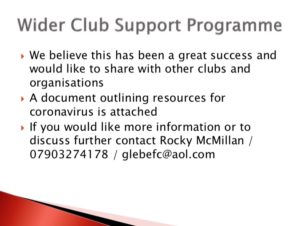 For additional resources during Coronavirus :
Sources of support
General – for parents
Samaritans
Samaritans aim to provide people ways to cope and the skills to be there for others. They offer listening and support to people and communities in times of need
Telephone: 116 123
https://www.samaritans.org/how-we-can-help/contact-samaritan/
Mind UK
UK Mental Health Charity with information and an online mutual support community
https://www.mind.org.uk/information-support/support-community-elefriends/
General – for young people
Kooth
Offers safe and anonymous online support for young people
Anna Freud
Provides resources around self-care for both children and families
https://www.annafreud.org/on-my-mind/self-care/
Young Minds
General information for young people about managing their mental health www.youngminds.org.uk/blog/what-to-do-if-you-re-anxious-about-coronavirus
Stop, Breathe and Think
Phone, tablet or web app to support mindfulness
https://www.stopbreathethink.com/kids/
MeeTwo
App that provides a safe and secure forum for teenagers wanting to discuss any issue affecting their lives
Parenting pressures
Family Action
The FamilyLine service supports people who are dealing with family pressures in a new and innovative way by using a network of volunteers from across the country to support family members over the age of 18 through telephone calls, email, web chat and text message.
Telephone: 0808 802 6666
Text message: 07537 404 282
https://www.family-action.org.uk/what-we-do/children-families/familyline/
Family Lives (previously Parentline)
Family Lives offers a confidential and free helpline service for families in England and Wales (previously known as Parentline). for emotional support, information, advice and guidance on any aspect of parenting and family life. The helpline service is open 9am – 9pm, Monday to Friday and 10am – 3pm Saturday and Sunday.
Call: 0808 800 2222
https://www.familylives.org.uk/how-we-can-help/confidential-helpline/
Gingerbread
One Parent Families/Gingerbread is the leading national charity working to help lone parents and their children.
Single Parent Helpline: 0808 802 0925
Grandparents Plus
Grandparents Plus is the only national charity (England and Wales) dedicated to supporting kinship carers – grandparents and other relatives raising children who aren't able to live with their parents.
Call: 0300 123 7015
Helpful resources for talking to children about Coronavirus
Mindheart
Mindheart has put together a short book about Coronavirus for children under the age of 7, this is available in 18 different languages.
https://www.mindheart.co/descargables
BBC Newsround
BBC Newsround has a section on Coronavirus with guidance to keep children informed and tips to feel supported.
https://www.bbc.co.uk/newsround/51204456
Resources for children and young people with additional needs:
The Autism Educator
They have produced a social story about coronavirus that goes into detail about social distancing and not being able to go to their favourite places
https://theautismeducator.ie/wp-content/uploads/2020/03/The-Corona-Virus-Free-Printable-Updated-2-The-Autism-Educator-.pdf
Carol Gray Social Stories
Carol Gray has produced another social story about Coronavirus
https://carolgraysocialstories.com/wp-content/uploads/2020/03/Pandemics-and-the-Coronavirus.pdf
OCDUK
Information for those struggling with OCD
www.ocduk.org/ocd-and-coronavirus-top-tips
Mencap
Mencap have produced an easy read guide to Coronavirus, with videos on hand washing and keeping safe
https://www.mencap.org.uk/advice-and-support/health/coronavirus
Sensory Integration
Information for those with sensory difficulties who struggle with handwashing
https://www.sensoryintegration.org.uk/News/8821506
Resources for home education
Many schools will be setting their own learning. However, if you need something else to keep them usefully occupied then this non-exhaustive list might help those affected by school closures due to coronavirus, compiled by home educators:
BBC Learning
This site is old and no longer updated and yet there's so much still available, from language learning to BBC Bitesize for revision.
http://www.bbc.co.uk/learning/coursesearch/
Big History Project
Aimed at Secondary age. Multi-disciplinary activities.
https://www.bighistoryproject.com/home
Blockly
Learn computer programming skills – fun and free.
https://blockly.games
Blue Peter Badges
If you have a stamp and a nearby post box.
https://www.bbc.co.uk/cbbc/joinin/about-blue-peter-badges
Cbeebies Radio
Listening activities for the younger ones.
https://www.bbc.co.uk/cbeebies/radio
Crash Course
You Tube videos on many subjects
https://thecrashcourse.com
Crash Course Kids
As above for a younger audience
https://m.youtube.com/user/crashcoursekids
Crest Awards
Science awards you can complete from home.
https://www.crestawards.org
DK Find Out
Activities and quizzes
https://www.dkfindout.com/uk/
Duolingo
Learn languages for free. Web or app.
https://www.duolingo.com
Futurelearn
Free to access 100s of courses, only pay to upgrade if you need a certificate in your name (own account from age 14+ but younger learners can use a parent account).
https://www.futurelearn.com
Geography Games
Geography gaming!
https://world-geography-games.com/world.html
iDEA Awards
Digital enterprise award scheme you can complete online.
https://idea.org.uk
Khan Academy
Especially good for maths and computing for all ages but other subjects at Secondary level. Note this uses the U.S. grade system but it's mostly common material.
https://www.khanacademy.org
Mindfulness in Schools Project
Free Paws b or .b lesson on mindfulness
https://mindfulnessinschools.org/train/
Mindful Schools
For the next few weeks, Mindful Schools will be offering free mindfulness classes for kids! With different mindful activities, mindful movement, read-alouds
https://www.mindfulschools.org/free-online-mindfulness-class-for-kids/
Mystery Science
Free science lessons
https://mysteryscience.com
National Geographic Kids
Activities and quizzes for younger kids.
https://www.natgeokids.com/uk/
Nature Detectives
A lot of these can be done in a garden, or if you can get to a remote forest location!
https://naturedetectives.woodlandtrust.org.uk/naturedetectives/
Openlearn
Free taster courses aimed at those considering Open University but everyone can access it. Adult level, but some e.g. nature and environment courses could well be of interest to young people.
https://www.open.edu/openlearn/
Oxford Owl for Home
Lots of free resources for Primary age
https://www.oxfordowl.co.uk/for-home/
Paw Print Badges
Free challenge packs and other downloads. Many activities can be completed indoors. Badges cost but are optional.
https://www.pawprintbadges.co.uk
Prodigy Maths
Is in U.S. grades, but good for UK Primary age.
https://www.prodigygame.com
Red Ted Art
Easy arts and crafts for little ones
https://www.redtedart.com
Seneca
For those revising at GCSE or A level. Tons of free revision content. Paid access to higher level material.
https://www.senecalearning.com
Scratch
Creative computer programming
https://scratch.mit.edu/explore/projects/games/
Ted Ed
All sorts of engaging educational videos
https://ed.ted.com
Crest Awards
Science awards you can complete from home.
https://www.crestawards.org
DK Find Out
Activities and quizzes
https://www.dkfindout.com/uk/
Duolingo
Learn languages for free. Web or app.
https://www.duolingo.com
Futurelearn
Free to access 100s of courses, only pay to upgrade if you need a certificate in your name (own account from age 14+ but younger learners can use a parent account).
https://www.futurelearn.com
Geography Games
Geography gaming!
https://world-geography-games.com/world.html
iDEA Awards
Digital enterprise award scheme you can complete online.
https://idea.org.uk
Khan Academy
Especially good for maths and computing for all ages but other subjects at Secondary level. Note this uses the U.S. grade system but it's mostly common material.
https://www.khanacademy.org
Mindfulness in Schools Project
Free Paws b or .b lesson on mindfulness
https://mindfulnessinschools.org/train/
Mindful Schools
For the next few weeks, Mindful Schools will be offering free mindfulness classes for kids! With different mindful activities, mindful movement, read-alouds
https://www.mindfulschools.org/free-online-mindfulness-class-for-kids/
Mystery Science
Free science lessons
https://mysteryscience.com
National Geographic Kids
Activities and quizzes for younger kids.
https://www.natgeokids.com/uk/
Nature Detectives
A lot of these can be done in a garden, or if you can get to a remote forest location!
https://naturedetectives.woodlandtrust.org.uk/naturedetectives/
Openlearn
Free taster courses aimed at those considering Open University but everyone can access it. Adult level, but some e.g. nature and environment courses could well be of interest to young people.
https://www.open.edu/openlearn/
Oxford Owl for Home
Lots of free resources for Primary age
https://www.oxfordowl.co.uk/for-home/
Paw Print Badges
Free challenge packs and other downloads. Many activities can be completed indoors. Badges cost but are optional.
https://www.pawprintbadges.co.uk
Prodigy Maths
Is in U.S. grades, but good for UK Primary age.
https://www.prodigygame.com
Red Ted Art
Easy arts and crafts for little ones
https://www.redtedart.com
Seneca
For those revising at GCSE or A level. Tons of free revision content. Paid access to higher level material.
https://www.senecalearning.com
Scratch
Creative computer programming
https://scratch.mit.edu/explore/projects/games/
Ted Ed
All sorts of engaging educational videos
https://ed.ted.com