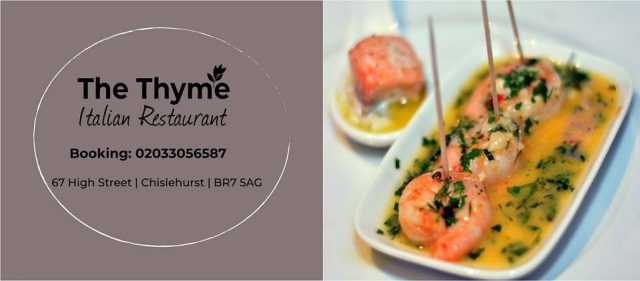 Many residents in BR7 say we have too many restaurants, maybe that's true, but small unique independents are special and one that we've tried is The Thyme Cucina Italiana. This little restaurant sits on the cross roads at the centre of the High Street and is very unassuming. But if you wander up the steps and through the door you will come across a very warm welcome from the friendly staff, and into a restaurant that is small and more intimate than some of the chains on the High Street.
The decor is very Italian with dark wooden tables and chairs and on the walls are hung Italian scenes. We tried The Thyme as a family of three, the youngest being under 10 and rather excited about a night out at a local restaurant that we haven't been to before as a family, although I have to say I've sneaked in there a few times with friends. We were seated quickly and instantly presented with menus and a jug of ice water, most restaurants you usually have to beg for such a luxury! The menu itself covers all eventualities for an Italian novice, ranging from a great selection of Antipasti to start your meal – followed by a selection of dishes covering everything from pasta, pizza, Vegetali (vegetables), Insalate (salad) and followed by Carne e pesce (meat and fish) – you don't need to be a native to order, the menu is in English and Italian.
We ordered Insalate Caprese (Buffalo Mozzarella with tomatoes, basil pesto & lemon oil dressing to start – the presentation of the dish was simple and appealing and looked very appetising. The dish was delicious, the quality of the ingredients was excellent and there was just the right amount of food on the plate for a starter. A light, simple and tasty starter, which is perfect for an Italian meal when you know you're only going to eat a lot. For the main dish Spigola con patate – Pan fried seabags fillet, crushed potatoes, mixed leaves, soft herbs & lemon oil – delicious! This was a really delicate dish which arrived on a warm plate (top marks in my book as no one likes their meal to go cold too quickly!), and the presentation was elegant. The seabass was cooked perfectly and sat on a bed of crushed potatoes – the tangy lemon oil was all the dressing it needed and brought the whole dish together – faultless. All of this was washed down with a bottle of Grillo, Mandrarossa – a very refreshing bottle of good quality wine, very pleasing and surprisingly unexpected – at £24.50 it was a good price point for a good quality wine.
Now you may be wondering about a childs' menu – yes, there is one. And to our delight no Sausage, Chips and Peas on it – our child orders this at every restaurant! She did however have grilled chicken strips with fries, but we were delighted by the quality of the chicken and it was devoured extremely quickly, with none of the usually nagging to clear the plate.
Oh and did I not mention desert? Well, Tiramasu to die for – light, tasty and not too much (especially after everything we'd already devoured).
This is a surprisingly good local restaurant. It has everything. Friendly, attentive but not overbearing staff, good simple cuisine made with quality products and presented well, all at a price that is suited to most pockets. If you haven't tried it already, you are definitely missing out as this is a secret delight, right in the centre of town.
Fantastico!