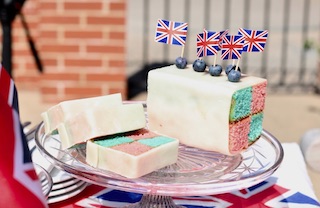 With the forthcoming VE Day 75 celebrations this Friday, Aprils Kitchen bring you these lovely recipes for home entertaining during lockdown.
CORONATION CHICKEN – SERVES 4 –6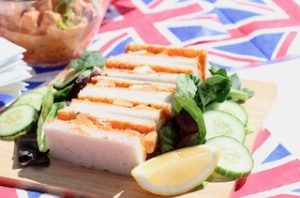 Ingredients
4 Chicken Breasts
Juice of 1 Lemon
3 tbsp Olive Oil
1 Onion, finely chopped
3 tsp Curry Powder
200ml Mayonnaise
2 tbsp Tomato Puree
200ml Chicken Stock
Salt & Black Pepper
2 tbsp Mango Chutney
4 Spring Onions, thinly sliced
2 tbsp Coriander, finely chopped
Instructions
Place the chicken into a roasting tin, season with salt and pepper and drizzle with 1 tbsp of the olive oil. Roast for 20—30 minute until cooked. Leave to cool and then cut into chunks.
In a medium sized pan add the remaining olive oil with the onion, sweat on a medium heat for 3-5 minute until soft. Add the curry powder and tomato puree and cook for a further minute.
Add the chicken stock to the pan and allow to simmer for 10 minutes until it has reduced by half. Take off the heat, stir in the mango chutney and leave to cool.
Once the sauce is cool add the mayonnaise, lemon juice, coriander, spring onions and stir well. Add the chicken and stir again. Season to taste.
Transfer into a bowl and leave to chill in the fridge for at least an hour before serving.
Extras
• For an extra kick add 1 chopped chilli to the pan with the onions
• Following the traditional recipe—sprinkle with flaked almonds before serving
• For a sweeter taste— stir in 2 tbsp of sultanas and a grated carrot
• For the curry lovers out there add an extra tsp or 2 of curry powder to suit your taste buds.
This recipe is delicious served on top of some crisp lettuce leaves, as a sandwich or on top of some cooked white rice.
BATTENBURG CAKE – Makes 2 cakes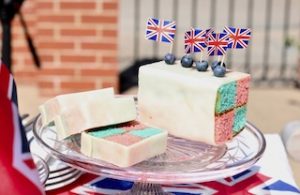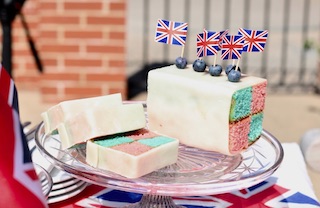 Ingredients
350g softened Butter
350g Caster Sugar
280g Self Raising Flour
100g Ground Almonds
1 tsp Baking Powder
6 Medium Eggs
1/2 tsp Vanilla Extract
1/2 tsp Almond Extract
1/2 tsp Red Colouring
1/2 tsp Blue Colouring
100g Apricot Jam
2 x 500g Blocks Marzipan
50g Icing Sugar
Instructions
Preheat your oven to 180C / gas mark 4. Grease and line 2 x 20cm square cake tins.
To make the sponge, place the butter and caster sugar into a bowl and mix with an electric hand mixer for 3 minutes, until soft and pale. Add the eggs, flour, ground almonds and baking powder and fold in gently until everything is combined.
Split the cake mix into 2 separate bowls. In the first bowl add the vanilla extract and the red colouring. In the second bowl add the almond extract and blue colouring. Spoon into the 2 tins and bake for 25—30 minutes.
Remove from the oven and leave to cool.
To assemble the cakes, heat the jam in a small saucepan until runny. Trim the edges of each sponge so you have a straight border. Then cut each sponge into 4 rectangles, vertically. You should now have 4 blue and 4 red sponges.
Roll out one block of the marzipan using the icing sugar, until it is 1/2 cm thick.
Brush the marzipan with a thin layer of the jam and then place 1 blue and 1 red sponge in the middle. Brush those cakes with another layer of jam and place the remaining 2 sponges on top alternating colours to gain the chequer board effect.
Carefully lift the marzipan over the cake and smooth with your hand. Trim along the edges, in line with the cake. Repeat for the second cake and allow them to sit for 15 minutes before eating.
Trench Cake – serves 8-10
Trench cake's history can be traced back to 1914. Hundreds of thousands of these homemade fruitcakes were sent to troops fighting on the front line. Indulging in such a treat, if only for a couple of minutes, was, for most of the men more valuable than all the riches in the world.
It was prepared from virtually any kind of dry fruits and it also required no eggs. People had to adapt all their recipes in accordance with rationing. This is how the trench cake was born.
Ingredients
225g Plain Flour
110g Margarine
75g dried currants
2 tsps. Cocoa powder
½ tsps. baking powder
75g Brown Sugar
1tsp. vinegar
¼ pint milk
Optional extras: zest of 1 lemon, ½ tsp ground ginger, ½ tsp nutmeg
Instructions
Preheat your oven to 180C / gas mark 4. Grease and line a 8inch round cake tin.
In a bowl add margarine and brown sugar, mix until smooth and pale. Add all the other ingredients and mix well for 5 minutes until smooth.
Place the cake mix into the cake tin and bake for approx. 1 – 1.5 hours until golden brown.
Leave to cool.
With thanks to Aprils Kitchen.https://aprilskitchen.net