Who wants to go on a bear hunt this Easter?
Get your walking boots on, put the dog on a lead, pack some snacks, grab the kids and go and hunt down the Chislehurst Bears!
Visit Chislehurst are organising a sponsored Bear Hunt to raise money for two new defibrillators* in our town.
Chislehurst is full of bears, you may have spotted a few on your daily routine, but there are many hidden that need finding.  Lots of fun to keep the children entertained this Easter.  
All you need to do is pick up or print off a Sponsorship Form and a Bear Map 🐻 Ask your friends and family to sponsor you for every bear you find…and then get walking!   The event will run over 4 days, 15th to 18th inclusive – so pick a day with good weather and take your time. And, of course, walking is perfect for keeping our hearts healthy in the first place! (nb, for tired legs there is a cheeky train ride in-between if needs be!)
All money raised will go towards providing Chislehurst with two new defibrillators – vital life saving equipment.  All money raised will be match-funded by two wonderful local businesses: JDM Estate Agent and New Mortgage Solutions, so huge thanks to them and the Chislehurst Society for their amazing support too.
All money raised needs to be transferred to: https://gofund.me/41da32af* Defibrillators are amazing devices that really do save lives. Anyone can use them in a cardiac emergency ❤
Instructions for entry:
2. Ask friends and family to sponsor you for every bear you find.
4. Send us photos with you and the bears 🐻
* hard copies/print outs of both the sponsorship form and maps can be found at JDM Estate Agents, New Mortgage Solutions or Linklater and Warren Opticians from Wednesday 30th March.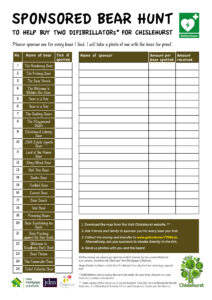 Huge thanks to :