One of the best things about summer is being able to spend more time outside, to make the most of the warmer weather and lighter evenings. So, what better time to invest in a garden makeover? Freshening up your outdoors living space doesn't always have to come with a hefty price tag – sometimes even the simplest of changes can help to breathe new life into your garden. Read on for ten great ideas from Garden Aspect – Chislehurst's bespoke garden design and landscaping experts – for ideas to suit every budget, and you'll be on your way to creating your perfect al fresco space before you can say, "Pass the Pimm's!"
1/ Add some statement garden furniture
Outdoor summer living requires a little comfort, so what better way to revamp your outside space than with some new or updated garden furniture? Corner sofas and hanging chairs look great on larger patios – don't forget to add cushions and throws so you can cosy up on cooler evenings. And remember, statement furniture doesn't have to be pricey – or even new! Updating existing benches, tables and chairs by painting them a bold shade is an affordable solution that screams summer, and can really add interest to an otherwise neutral garden. Think pops of hot pink, sunshine yellow or bright coral – and always remember to use a paint designed specifically for outdoor use.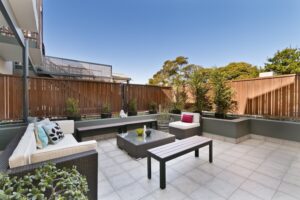 2/ Get creative with potted plant displays
If your potted plants have spent their lives in a neat row on the patio, why not try a more imaginative display? An easy option is to display pots on a stepladder – an ideal solution for smaller gardens or patios where space is at a premium (and it can also help to hide bare walls). Or why not upcycle old garden tools, such as wheelbarrows and watering cans, by using them as planters? (Just don't forget to drill holes in the bottom first, for drainage.)
3/ Consider your outdoor lighting
The right lighting can transform your garden once the sun begins to set, making it a space you want to stay out in long after dark. Garden lighting is not only a practical addition, but it can make the space appear pretty magical too. Ground-level lighting can highlight pathways, borders and flowerbeds, while string lights wrapped around pagodas and tree branches can create an ethereal effect. Solar lights are often an easy and affordable option.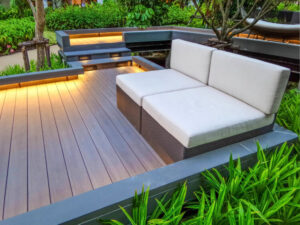 4/ Consider raised beds and borders
Not only are raised beds and borders a wonderful way to add interest and height to smaller gardens if you're short on space, but they're also a stylish way to frame patios and outdoor seating or dining areas. Plant with flowers or herbs to add a gorgeous aroma for guests.
5/ Pick a colour scheme
When choosing summer flowers for beds and borders, opting for a single colour theme to run throughout can create a chic feel. And it's not just the plants you can colour match: add the same pop of colour to your outdoor soft furnishings, too. For example, purple cushions will go well with a mix of foxgloves, hollyhocks and globe thistles.
6/ Think about how your garden will be used
When planning a refresh or full redesign, it's important to consider use, space and flow. For example, if you have little ones running around, is your garden child-friendly? Is there an area that can become a designated play area, with soft grass rather than patio? Think about flow, too: do the spaces work in harmony together?
7/ Don't forget vertical spaces
When considering plants, you might immediately picture ground level, but it's worth thinking outside the box! Bare walls, pagodas and archways can all be given a more natural, organic look with the addition of climbing plants, which also offer shade and privacy, and can help to create hideaway areas. Or why not consider a green, 'living' wall or roof for garden rooms?
8/ Consider a garden room
Speaking of garden rooms, now could be a wonderful time to consider a build. Garden rooms have increased in popularity since the start of the pandemic (quiet workspace, anyone?), and they're often a far more affordable project than an extension (as well as being a pretty cool hangout space).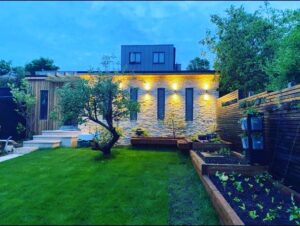 9/ Pick a theme
Theming your outdoor space can be a wonderful update and will give staycations a more exotic feel! Fancy a trip to the Mediterranean simply by stepping out of your back door? Invest in olive trees in terracotta pots, or a herb garden of thyme, rosemary and eucalyptus. If Morocco is more your thing, hang lanterns from trees and dine outside in candlelight, or for Japanese minimalism, opt for acers and a zen design.
10/ Ask the experts!
Whatever plans you have for your garden this summer, expert guidance is the key to getting the look planned to perfection and executed beautifully. A qualified and experienced garden landscaper will be able to advise and support, working with you to achieve your dream aesthetic, while also smoothing out any potential pitfalls you may not even have considered. If you'd like to chat through your ideas with one of the best in the business, contact Chislehurst's very own Garden Aspect for friendly, professional advice.
Call Garden Aspect on 020 4537 3083, email hello@gardenaspect.co.uk, or pop into the high street showroom (57 Chislehurst High Street, Chislehurst, BR7 5AF). Garden Aspect also has a showroom in Belsize Park.