A VERY MERRY CHRISTMAS TO ALL FRIENDS AND SUPPORTERS
Although the days are shorter and the weather colder, the Commons continue to provide interest, wonderful views, and a place to enjoy the natural world right on our doorstep. In our monthly Newsletters we aim to show you some of the work involved in maintaining and enhancing the area for present and future generations. They also illustrate the amazing diversity of flora and fauna to be found there
Christmas at Prickend Pond – Past and Present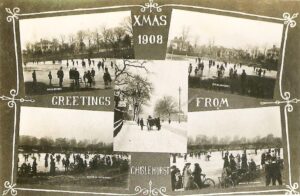 This postcard features skaters on Prickend Pond – another reminder of how the community here in Chislehurst has benefited from the Commons through the ages.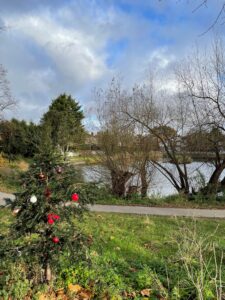 2021 – A yew tree planted a few years ago, supplements the Christmas decorations in the High Street.
The Month for our Wonderful Keepers and Volunteers
Our Keepers and Volunteers do an amazing range of work each month. We are very grateful to them for their time and effort which help to make the Commons the pleasant open space we all enjoy.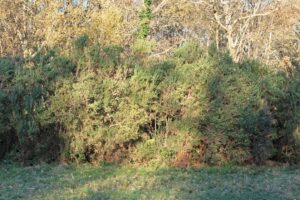 This month, the Working Party was split into two groups, enabling us to carry out tasks in different locations. In the Overflow area, the work was focused on maintaining and developing the biodiversity of the habitats. (BEFORE)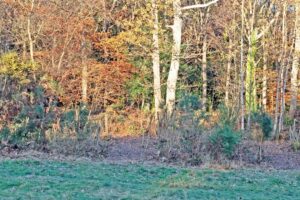 One group of volunteers has been working in the Overflow Glade, where the gorse bordering the grassland is reaching an age when it will start to die back.
To avoid the inevitable deterioration, the area is being used as a test site to regenerate new soft gorse growth by cutting back much of the old.  In doing this, an area behind the gorse has been opened up to allow more sunlight to penetrate into the woodland, as shown in the before and after photos above.
The new wider transition zone from grassland to woodland replaces the old dense gorse "hedge" with a more open structure, offering more possibilities for a greater diversity of flora and fauna to develop.
It may take a couple of years for new growth to become established. Once this happens, further sections of old gorse will be removed to extend the wider border.
The progress of these changes will be continually monitored and adapted where necessary to achieve a lush growth of plants, along with accompanying insects and other invertebrates, that in turn support birds, bats and other mammals which frequent this area.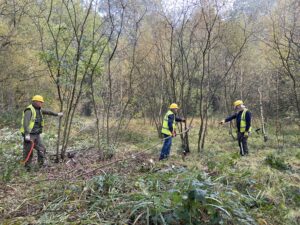 Another task was to help to maintain the wetland area adjacent to the Overflow Pond by removing encroaching trees. This is particularly important because Wet Woodlands are valuable habitats, but are becoming increasingly rare.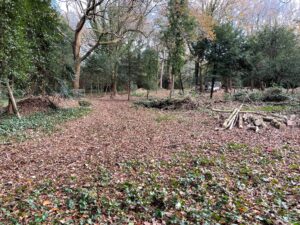 Meanwhile, the clearance of the dense holly from the woodland between Kemnal Road and Fallowfield and Fairlight, at the Bromley Lane end, has continued.
This has opened up a large glade, as shown in the photo above, offering an opportunity to explore another area of the Commons, and new vistas to enjoy. Well worth a visit!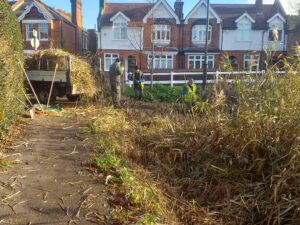 In addition to our regular Working parties which meet on a Wednesday, small groups sometimes meet on other days to help with specific tasks. Here, some volunteers are cutting back the reeds at the outflow end of Prickend Pond and clearing debris. On the same day, at the other end of the pond, another group were planting shrubs and flowering plants.
Bird Life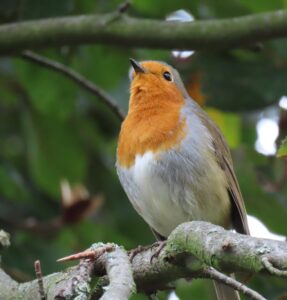 A December Newsletter would not be complete without a photo of a robin. They are easier to spot now that the trees have lost their leaves, and their characteristic song rings out through the woodland. Victorian postmen were nick-named "Robin Redbreasts" because of their red waistcoats and it is thought that this is the reason robins became so popular on Christmas Cards.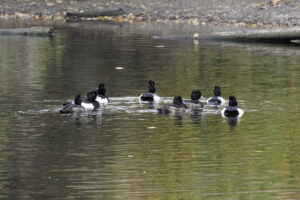 Last month we reported that, after an absence during the summer, a pair of Tufted ducks had been seen on Rush Pond. Although numbers have varied since then, these eight were seen recently.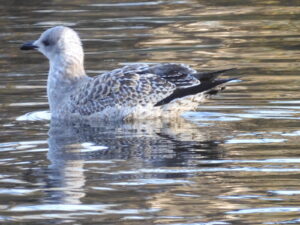 In amongst the 80 or so black-headed gulls recorded on Prickend Pond in the November bird count, this juvenile herring gull was spotted. It was the only other kind of gull recorded, although we did see a similar youngster two years ago. It would be interesting to know the journey it had made to get here. This one is in its first winter plumage. Surprisingly, the herring gull is on the red list due, according to the RSPB, to "ongoing population declines and wintering population declines".
Fabulous Fungi!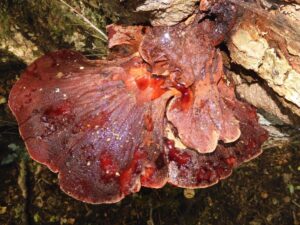 While some fungi are harmful to both humans and plants – and all should be approached with care unless identification is certain – many play an important part in the cycle of decay and regeneration in the woodland. They come in an amazing array of shapes and colours, and this is a good time to look out for them as you walk across the Commons.
Beefsteak Fungus – Named for its appearance, this is a bracket fungus that grows in broad-leaved woodland, and can reach 25cm across. The photo  above was taken on St. Paul's Cray Common.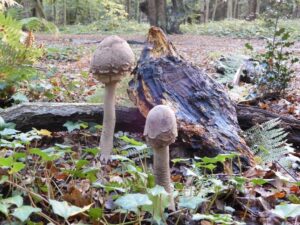 Parasols
These can often be found on the Common in small groups or rings.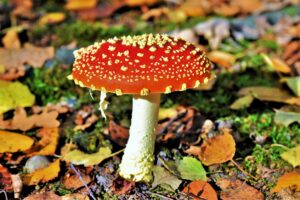 Fly Agaric
Although this striking fungus often appears in illustrations to fairy tales, it is toxic to humans.
The Commons in close up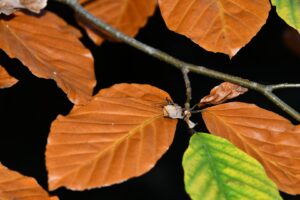 The beauty of Nature is all around us on our Commons, and this arrangement of autumn leaves caught our photographer's eye.
The 180 acres at the centre of Chislehurst enhance our lives in so many ways. We will continue to do our best to maintain and enhance them for present and future generations.
We are registered with Amazon Smile.
Visit https://smile.amazon.co.ukinstead of the normal Amazon website and select Chislehurst Commons, and, for everything you buy, Amazon will donate 0.5% to help maintain the Commons. This is another excellent opportunity to support the greenspace on your doorstep.
Will you be a true friend of the commons?
The 180 acres of local common land are protected by an Act of Parliament.
Chislehurst Commons has responsibility under the Act for the management and maintenance of the area.
The Act, however, made no provision for funding, and we rely on our wonderful volunteers and the generosity of local people to enable us to continue our work.
We have two Keepers, whose knowledge, skills and dedication are invaluable. Everyone else who works to maintain and develop our beautiful Commons does so on a voluntary basis.
A BIG THANK YOU TO CHISLEHURST CO-OP, GREEN LANE, AND ITS MEMBERS, FOR THEIR SUPPORT THROUGH THE PAST YEAR.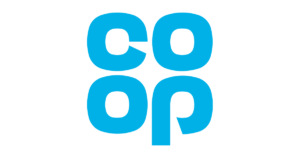 OVER £1,000 was raised by members who nominated
Thank you
Thanks for this month's photos to Don Drage, Peter Edwards, Kevin Jennings, John Stiles, Ross Wearn and Mary Wheeler.
Thanks also to the Editorial Team – Kevin Jennings, Christine Wearn, Ross Wearn and Mary Wheeler.